C
Stick Shift Shootout Sponsored by Jerry's Machine Shop & Rogers Garage
CONGRATS TO ADAM ROGERS WHO WILL RECEIVE THE STICK SHIFT POINTS JACKET AND ADDITIONAL $125 FROM pTS $$ CHARLES WHITAKER WILL RECEIVE $100 AND ANDY GRAY $75
Winner: Adam Rogers, Scranton Mustang 7.83 .150 7.88@79mph
Runner Up: Tim Taylor, Waveland, 9.50 .098 9.66@75mph
Semi: Tracy Rogers, Scranton 6.06 .131 6.10@106mph
1/8th Mile Bracket
Winner: Mike Tippit, New Blaine 7.10 .173 7.16@88mph
Runner Up: David Moore Jr. Mabelvale 7.59 .337 7.62@87mph
Next Race SaturdayOCT.21ST 25TH ANNUAL STREET LEGAL STATE CHAMPS
EVENT SHIRTS WILL BE ON SALE AT GATE!!
BIGGEST HEADS UP RACE OF THE YEAR
GATES OPEN AT 9 AM
TECH INSPECTION FROM 10-12
QUALIFYING NOON
ELIMINATIONS IMMEDIATELY AFTER QUALIYING RDS
SPECTATORS $10
SUNDAY OCT 22ND CLOSED
MAKE UP BRACKET WILL BE SUNDAY OCT 29TH!!
Centerville Dragway Result 10-8-2017
Super Pro
Winner : Greg Brotherton, Mena 5.72 .004 5.73@120mph
Runner Up: Darren Grubb, Van Buren 5.14 .003 5.17@134mph
Semi: Aaron Rees Hattiville 6.92 .027 6.92@98mph
Qtrs: Tripp Weaver, Fayetteville 5.08 .006 5.12@133mph
Joy Jones, McRae 6.52 .010 6.57@104mph
Pro No E
Winner: Eric Foster, Pottsville 6.07 .040 6.07@106mph
Runner UP: Jerry Stafford, Magazine 8.02 .081 7.96@85mph
Semi: Steve Scoggins, Knoxville 6.20 .081 6.20@110mph
Qtrs : Charles Whitaker, Broke
Danny Needham, Clarksville 5.79 .137 5.80@117mph
Robbie Moore, Conway 6.88 .070 6.94@97mph
Street E.T.
Winner: Darrell Francis, Danville 11.30 .003 11.35@90mph
Runner Up: John Norman, Scranton 10.33 .094 10.29@96mph
Semi: David Colton, Cabot 10.47 .104 10.46@93mph
Qtrs: Adam Rogers, Scranton 11.89 .023 11.97@82mph
Drea Rogers, Harrison 11.88 .024 11.86@84mph
9-16 Jeff Bowman* Gary Hairston* Jaklene Brooks* Steve Howard
Jr. Dragsters Sponsored by Ropers Machine Shop*
Winner: Scotty Kruck, Benton 7.71 .062 7.6@82mph
Runner Up: Angel Neff, Perryville 8.37 .024 8.50@75mph
Semi: Luke Wewer, Scranton 7.53 .104 7.54@83mph
Dial n for $$ Jack Materna Dialed 5.871 Ran 5.888 Next Points Bracket $1300
Centerville Country Store: Tiffiny Fowler, Dardanelle
Mopar Bracket: sponsored by Advance Collision and Dennis McKinney
Great Turnout 32 Cars for the Mopars
Winner Michael Yielding Cabot 68 Satellite 9.72 .027 9.79@102mph
Runner Up Charlie Hallum Pottsville 11.5 .179 11.66@88mph
Semi: Rudy Kalkbrenner, White Hall 11.41 .215 11.38@89mph
Eric Foster, Pottsville Wagon 9.59 .-002 9.53@107mph
Saturday Oct. 30th
Special Thanks to Bear Brantley Arkansas Drag Racers and DRAg Strips Past & Present and to RANDY HIPP FOR THE EXHIBITION RUN IN THE TOP ALKY DRAGSTER 3.92@181MPH It was Great to see all the old timers Lenard Lamia, John Jennings Dennis Oliver, Bob Worlow to name a few!! You guys have really been a great asset to Drag Racing!
Vintage Bracket
Winner: Rob Ayers IV Rogers 71 Camaro 6.45 .041 6.44@104mph
Runner Up: Tracy Rogers, Scranton Mustang 6.11 .105 6.03@110mph
Semi: John Geels, Scranton 7.70 .071 7.71@87mph
Qtrs: Danny Needham, Clarksville 5.76 .095 6.78@96mph
William Runyan, Cave City 6.20 .135 6.25@108mph
Ken Collett, Benton 5.73 .094 5.75@119mph
Arkansas Legends
Winner: William Runyan Cave City 6.16 .138 6.19@109mph
Runner UP: John Tripp, Clarksville 5.85 .364 5.87@117mph
Semi: Jack Mullins West Helena
Qtrs: Lonnie Cunningham Greenbrier 4.81 .033 4.82@139mph
Brian Thompson Lead Hill Mustang 5.93 .-013 6.08@81mph
Verne Buchanan Little rock 6.93 .132 6.91@96mph
55 & Older Street Bracket:
Winner: Gary Hairston Little Rock Camaro 9.72 .049 9.79@107mph
Runner Up; DeWayne Hooker, Batesville 12.92 .118 12.94@78mph
Semi: John Jennings Burger King Man 12.36 .-138 12.36@82mph
Dano Williams Mayflower, 10.80 .206 10.76@99mph
Match Race between Dragsters:
Thanks David and Ray for your Support!!
Winner: David Secrest Austin FED .075 4.85@131mph
Runner Up: Ray Sullins, Heber Springs .065 4.94@137mph
Match Race with the old Fords
congrats Jimmy & Happy Birthday and Yes we should Dance!!!
Central Arkansas Corvette
Winner Rita New Maumelle
Runner Up Gary Sieiler, Quitman
Results of 1st ever No Prep Hill Billy Hell RAisN
Yee Haw What a freakin Night THANKS TO ALL WHO SUPPORTED THIS AND WE WILL BE HAVING MORE OF THESE TYPE RACES AT THE VILLE
SMALL TIRE NO PREP Hill Billy Hell RaisN PAIRINGS WITH CHIPS
1ST RD
1. David Moore Jim Welsh
2. Jacob Wright Danny Finch
3. Clay Selig Marc Daniels
4. James Meador Darin Lewis
5. Brian Hice Kris Keltner
6. Ryan Surrett Don Duwe
7. Mike Gongola Ryan Gray
8. Randy Westmoreland Nathan Stillwell
9. Terry Harris Alex Charity
10. Jamin Scott Paul Simmers
11. Shane Parker Lonnie Griffin
12. Derrick Kelly Christian Natnz
13. T J House Dustin Estep
2nd RD
1. Dustin Estep Shane Parker
2. Jacob Wright Darin Lewis
3. Don Duwe Kris Keltner
4. Nathan Stillwell Ryan Gray
5. Paul Simmers Christian Nantz
6. Alex Charity Jim Welsh
Bye Marc Daniels
3rd RD
1. Jim Welsh Shane Parker
2. Kris Keltner Ryan Gray
3. Paul Simmers Marc Daniels
Bye Jacob Wright
4th RD
1. Jacob Wright Ryan Gray
2. Shane Parker Marc Daniels
5th Rd and Final
Dr. Shane Parker Clarksville wins over Ryan Gray Oklahoma
Big Tire Hillbilly Hell RaisN No Prep
Rd 1
1. Mike Severs Steve Rayburn
2. Joe Mumma Daniel Wright
3. Kevin Strobel David Johnson
Bye Artie Green
Rd 2
1. Mike Severs David Johnson
2. Artie Green Daniel Wright
Rd 3 Final
Daniel Wright wins over David Johnson
Winner of Biggest Wheel Stand Jacob Wright sponsored by Straight Line Transmission
Winner of the Fastest Radial was Jacob Wright sponsored by Rick Johnson AFSC
TEAM RACE WINNERS SUNNY D'S DANNY & REBA RADER* JOHN TRIPP* ERIC FOSTER* DANNY NEEDHAM* JACK MATERNA

THATS WHY YOU DON'T WANT TO MISS NEXT WEEKEND OCT. 21ST

GOING TO BE THE BEST ONE EVER!!!!!

Saturday Sept. 2nd WHAT A HELL OF A SATURDAY NIGHT

OUTLAWS: NEW TRACK RECORD MICHAEL BROWNING 3.9943 E.T. ! At 186.03

Winner: #2 Q Randy Hipp, Mablevale Vette .064 4.27@166mph

Runner UP: #1 Michael Browning, Little Rock ARKY .048 5.09@103MPH

Semi: #4 Brad Meadors, Hackett .020 4.71@135mph

#3 Q Marc Tate, Greenwood .-012 4.72@138mph

Others: #5 Q Dean Cameron* #6 Q Steve Johnson* #7 Q Troy Hampton #8 Q Mike ColdIron # 10 Harry Crane

SMALL TIRE Sponsored by Collier Drug Stores

Winner: #3 Q Jacob Wright, Van Buren 02 Mustang .124 5.18@139mph

Runner Up: Q #6 Derrick Kelly Lowell 91 Mustang .031 5.93@134mph

Semi: #5 Q Kevin Copeland, Tahlequah Ok Coupe .020 5.11@142mph

Qtrs #1 Nathan Stillwell, Clarksville Mustang Let Off

#2 Andy Iames, Ft. Smith Malibu Blew Tires

Others #4 Jamin Scott* #7 Marc Daniels #8 Dustin Estep* #10 Brandon Stillwell#11 Paul Simers #12 Mike Gongola #13 Ryan Surrett

6.00 Index

Winner: Gary Watts, Tahlequeh, Ok 6.00 .003 6.00@113mph

Runner UP: Joey Nugent Sheridan 6.00 .029 6.01@109mph

Semi: Shane Nugent Sheridan 6.00 .044 6.00@110mph

Qtrs: Sonny Reeves, Arkadelphia 6.00 .010 6.08@107mph

Allen Watts Park Hill Ok 6.00 .026 6.06@113mph

7.00 Index

Winner: John Norman, Scranton Scranton 7.00 .337 7.08@86mph

Runner UP: Andy Gray, Scranton 7.00 .118 7.29@80mph

Semi: Robbie Moore, Conway 7.00 .037 6.99@107mph

Randall Staggs, Russellville 7.00 .-026 7.14@93mph

Winner: Jack Lineberry, Sallisaw 12.58 .0438 12.58@81mph

Jack and his lil buddy Joe Brooks What a Team!!!
gOOD Times at the Ville Thats what we are talking about!!
Super Pro /Pro No E Combo
Open Wheel Record set by John C Jackson 4.3677 E.T.
Winner: John C Jackson, Star City 4.36 .057 4.37@156mph
Jr. Dragsters Sponsored by Ropers Machine Shop!!! Kruck Racing!!
Scotty Kruck, Benton
Thanks MEL & Amie COLLIER FOR YOUR CONTINUED SPONSORSHIP HERE AT THE VILLE!!!!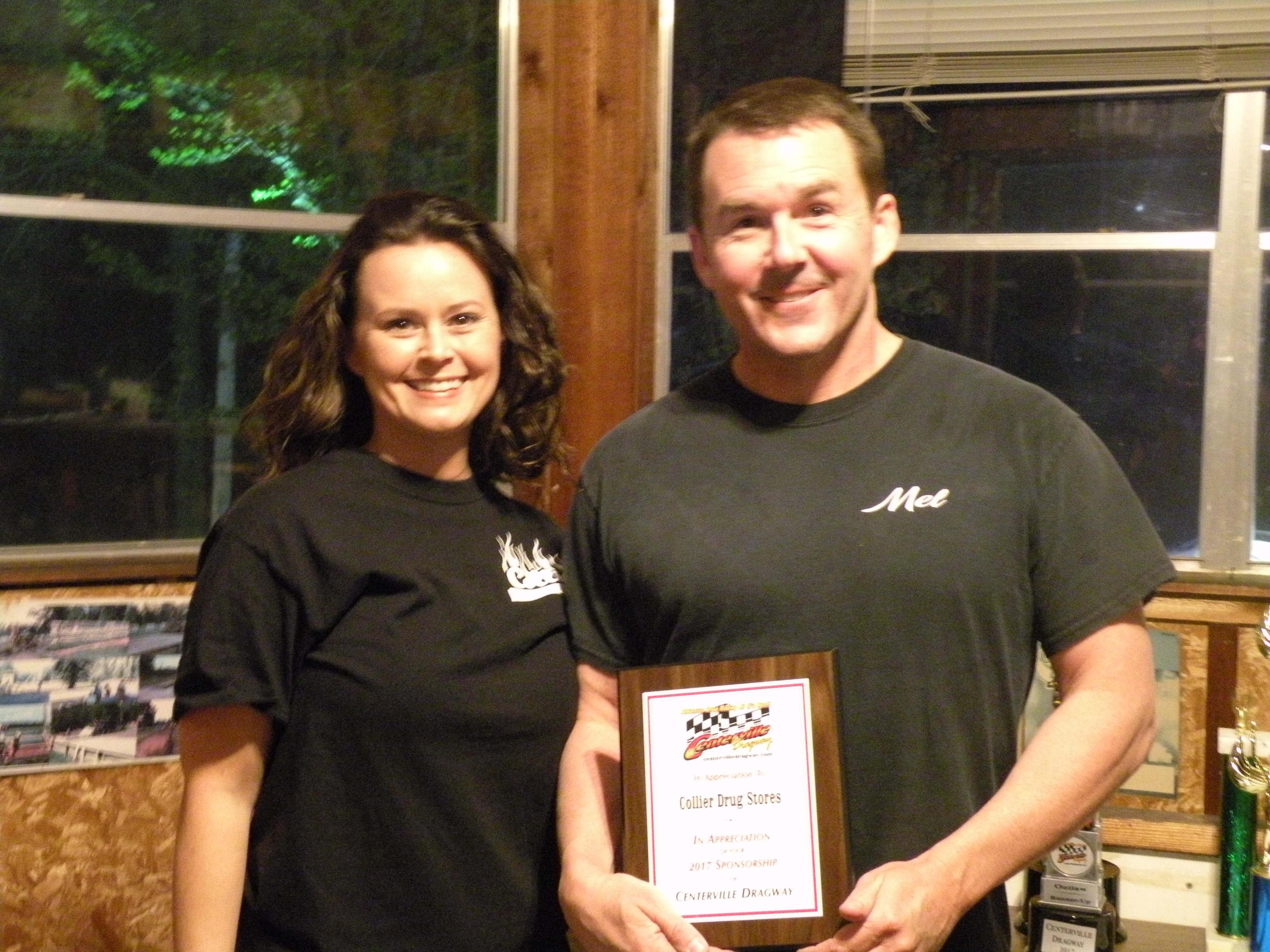 JAMES KIDDY WAS THE MACKEY MEMORIAL WINNER!!
OUTSTANDING STREET LEGAL CAR
t annual Vi
OUTLAW SHOOTOUT!!
We appreciate Kathy & Larrys Support here @ the Ville
5.01 Larry Boardman, HammerTime .071 4.49@156mph
1.
2. STEVE HAYNES, MAUMELLE RAN 14.40 ON 14.400 .500 LIGHT
So come on up and see if you can be a part of the elite racers at Centerville!!
WE ARE LOCATED 11 MILES SOUTH OF RUSSELLVILLE, ARK. ON HWY 7, THEN 1 MILE ON 154 FOR MORE INFORMATION CALL TRACK 479-576-4001 OR EMAIL AT cvdrag@ymail.com