Centerville Dragway 5/31/2020 We Appreciate All of your Support and Positive Comments as we Try to make it thru this Year!!!!!
Super Pro:
Winner: Rashad Jones, Nashville 4.75 .027 4.77@143mph
Runner UP: Adam Rogers. Scranton 6.06 .064 6.05@113mph
Semi: Danny Rader, Russellville 5.86 .5.88
Qtrs: John Herring, Mena 4.52 .035 4.49@154mph
Kirk Cunningham, Greenbriar 5.12 .065 5.124@132mph
Pro No Electronics:
Winner: Eric Foster, Pottsville 5.78 .113 5.80@117mph Yeah EEE
Happy B Day Frank!!!!
Runner UP: Scotty Kruck, Benton 5.96 .-070 5.82@119mph Good Job Kiddo
Semi: Kelly Taylor, Scranton 7.65 .052 7.63@89mph
Bobby Wewer, Scranton 6.70 .111 6.68@98mph
Qtrs: Jarrett Holloway, Greenbrier 5.72 .092 5.77@114mph
Robert Davis, Searcy 6.98 .166 6.99@96mph
Wilber Whitmore, Spiro Ok. 6.67 .020 6.65@90mph
Alan Holloway Broke
Street E. T.
Winner: John Etzkorn, New Blaine 13.30 .043 13.33@75mph
Runner UP: Jackson Rogers, Scranton 12.92 .075 12.91@75mph
Semi: Red Bailey Magazine Broke
Don Holcomb Danville 12.77 .085 12.81@75mph
9-16 Shannon Anderson* Jimmy Brooks
Junior Dragsters:
Winner: Joe Brooks, Sallisaw, Ok 14.68 .112 14.77@41mph
GOT YA!!!!!!
Runner up: Race Rogers, Scranton 8.73 .030 8.72 @73mph
Semi: Thomas Williams, Scranton 8.56 .108 8.60@74mph
Kealey Goodman Stigler Ok 7.55 .068 7.55@85mph
Dial N for $$ Mike Schmitz Dialed n 5.172 Ran 5.239 Next Pts Race $150 up for Grabs!!!
Next Race: SATURDAY June 6th TEST N TUNE FOR EVERYONE $20 PLUS 5.50 6.00 7.00 Index $500 win in ea
Sponsored by Southern Transmission & ADRA Thanks Bill Dowdy for your Support
NEXT BRACKET IS SUNDAY June 7th
SATURDAY May 3oth
TOP 5 BIG BIKE Congrats Great Turnout for 1st Saturday Night
Winner : Steve Troyke Dardanelle BUSA 6.5322 @159 Broke E.T. Record$50
Runner Up: Shawn Covey, Benton .-0324 Rd Before Ran 152 Mph
STOCK BIG BIKE
WINNER: Steven Branch Little Rock 8.04 .126 @137mph
RUNNER up : Matt Prysock, Morrilton .124 8.15@135mh
SEMI: Brian Creamer, Sherwood .106 8.34@124mph
T.C. Criswell, Morrilton .245 9.00@98mph
E.T. Bike Bracket:
Winner : Jared Spires, Morrilton Suz 8.30 .086 8.29@120mph
Runner Up: Keith Morris, Springfield Mo Kaw 7.95 .-117 7.94@137mph
Semis: Dave Webb, England 10.94 .-009 11.02@93mph
Qtrs: Michael Prysock, Morrilton 9.60 .004 9.59@118mph
Larry Sayre, Strafford Mo 7.98 .299 7.97@132mph
Centerville Dragway 3/1/2020
Super Pro:
Winner: Amanda Meador, Hackett 5.23 .036 5.24@131mph 1st Win!!!
Pro No Electronics:
2019 Annual Street Legal State Championships
Thanks to all the 160 Racers ++ Fans who showed up to show Your Support for this Race Every Year!!
Congrats to Outstanding Street Legal Car Mackey Award going to KEVIN COPELAND!
Congrats to DEAN CAMERON for Small Tire Jacket!!
OUTLAWS:
Winner: # 6 Q Chad Sheffield, Muldrow, Ok 55 Chevy .442 4.75@139mph
Runner Up:#2 Q Eric Maxwell, Waldron Vette .195 5.16@135mph
Semi: #3 Michael Browning, Little Rock Willis .114 5.58@154mph
Others: #4 Ryan Surrett Dakota*#1 Marc Tate Blue Camaro* #5Brad Meador 63 Vette
SMALL TIRE:
Winner: #9 Jeff Spear, Van Buren Mustang .058 4.77@151mph
Runner Up: #4 Marc Daniels, Jacksonville Mustang .044 4.80@156mph
Semi: #7 Kevin Copeland Tahlequah Ok .101 4.90@144mph
#13 Joe Mumma Sallisaw Camaro
Qtrs: #10 Dean Cameron .131 12.38 Bretts Car
#17 Ryan Surrett Broke
#1 Ray Parsons .136 4.63@163mph Broke
#2 Clay Selig .048 4.60@163mph Broke
Others: #3 Mel Collier Broke #5 Bobby Kruck *#6 Doc Baker* #8 Brian Hice #11 Billy Kruck
#12 Kris Keltner * #14 Mike Gongola* #15 Luis Cantu * #16 Darin Lewis* #18 Brian Zardo
#19 James Meadors #20 Kily Reynolds #21 Jeremy Swain #22 T J House* #23 Jo Lee Manning
#24 Seth Curtis * #25 Brandon Stillwell #26 Chip Pike #27 Jamin Scott * Paul Simmers* Richard Carpenter
Small Tire No Power Adder:
Winner:#1 Billy Kruck, Benton ,Camaro 110 5.27@129mph
Runner UP: #2 Dustin Estep, Coal Hill 90 Mustang.001 5.42@126mph
Semi: # 3 Roger Jones, Morrilton 86 Mustang .191 5.53@119mph
#5 Scotty Kruck, Benton Camaro .061 5.94@116mph
Others: #7 Anthony McElroy *#6 Brandon Renfrow*#4 Jim Welsh*#8Joshua Kamer
Outlaw Top Sportsman:
Winner: Artie Green Bryant Mustang 5.08 .023 5.11@129mph
Runner Up: Brad Meador, Hackett 63 Corvette 5.34 .648 5.38@123mph
Semi: Brian Kelley Rowell Ar. Camaro 5.28 .027@127mph
Others: Tim Adams*Shane Nugent*James Meador
6.00 Index:
Winner: Brandon Newbolt, Ft. Smith 6.00 6.04 .015 @100mph
Runner Up: Shane Nugent, Sheridan 69 Nova 6.00 .080 6.01@108mph
Semi: Amanda Meador Hackett Cavalier 6.00 .052 6.05@123mph
Qtrs: Joey Nugent Sheridan Chevy Pick up 6.00 .-003 5.99@107mph
Scotty Kruck Benton 6.00 .057 5.98@112mph
Danny Rader, Russellville Camaro 6.00 .022 6.08@106mph
Others: Sonny Reeves* Mike Stringer*Steve Dunne*Brian Kelley*Nick Calhoun*Audie Dupont*
Charlie Berry*Adam Wewer
7.00 Index:
Winner: Cody Rogers, Scranton Mustang 7.00 .011 7.01@92mph
Runner Up: Craig Ashcraft, Rye Mustang 7.00 .019 6.99@105mph
Semi: Matt Lane Centerville Malibu 7.00 .-005 6.92@100mph
Qtrs: Jake Ballard, Conway Mustang 7.00 .021 6.91@95mph
Robbie Moore, Conway S 10 7.00 .101 6.99295mph
Others: Robert Davis*Chris Brooke*Tyler Green * Brent roper*Dillion Johnston*Eddie Scott*Luke Peeler*Eddie Hazel*Jeremy Renfroe*Rick Brown*John Brown*Kenny Myers*Lonnie Griffin*Ricky Ray* Amanda Meador * Harvey Owen* Brandon Newbolt*Kevin Brown
8.00 Index:
Winner: Jeremy Renfroe, Clarksville Maverick 8.00 .048 8.00@88mph
Runner UP: Deidra Rogers, Scranton Mustang 8.00 .107 8.09@86mph
Semi: Mitch Shafer, Searcy S 10 8.00 .082 8.12@78mph
Others: Charlie Hallum*Greg Downs* Luke Peeler*Shane Pearson*Joey Gates* Kelly Taylor
Tyler Green *Haley Baker
9.50 Index
Winner: Robbie Gray, Scranton Camaro 9.50 .146 9.77@98mph
Runner Up: Brian Harris, Ward Mustang 9.50 .286 9.67@108mph
Semi: James Shirley, Dover Pick Up 9.50 .158 9.46@88mph
Others: Daniel Hudson*Robert Hartle *Luke Peeler*Jeremy Renfroe*John Hearne*Ronnie Spires
10.50 Index:
Winner: Jeff Gilkey, Danville Vette 10.50 .111 10.61@95mph
Runner UP: George Strobel, Morrilton 10.50 .254 10.48@82mph
Semi: John Norman, Scranton 10.50 .024 11.11@82mph
Others: Joey Gates*Logan Wewer
Hard Radial :
Record Shea 8.3614 E.T. 128.53mph
Winner: Shea Perkins, Cabot Cadi #1 .770 8.43@127mph
Runner UP: Brian Harris Ward Mustang .716 9.67@109mph
Semi: Lance Lawhon, Sheridan Vette .687 9.57@114mph
Others: Amie Collier * Jacky Lax
EFI :
Winner: Luis Cantu, Greenbrier Camaro .078 5.06@143mph
Runner UP: Richard Carpenter K & K .063 5.19@137mph
Semi: Kris Keltner, .245 8.28 *** New Sponsor at the Ville
Others: Phil Niedballski* Michael Berry*Dustin Wilson * Abdulla Abunsrah* Justin Siemens*Patrick Hellard*Blaine Meahe
Real Street EFI
Winner: Shea Perkins Cabot .553 8.50@128mph
Runner UP: Zack Isom, Conway Mustang .662 9.93@107mph
Semi: Alex Humpt Conway Corvette .656 11.00@70mph
Parker Reeves, .332 10.06@106mph
Street Pro Tree Bracket
Winner: John Norman, Scranton 10.32 .035 10.46 @96mph
Runner UP: Tyler Green, Bryant 10.33 .049 10.49@96mph
Semi: Wade Atchison Russellville 8.20 .192 8.38@121mph
Others: Chris Brooks*Seth gongola*Robert Hartle*Jackson Rogers*Clay Smith*Steve Scott*Brandon Sanford*Jeff Gilkey*Earl Free*Charlie Hallum*Shane Pearson*Andrew Spann*John Hearne*Andy Gray*Ike Eichelberger*Skler Pratt*Anthony McElroy*Logan Huckabay*
Street Import
Winner: #1 Q Steven French, Conway Civic .185 11.00@98mph
Runner Up: #2 Luis Jasso Little rock Civic Broke
Semi: Billy Barfield Conway Prelude .551 12.36@84mph
Others: Johnathan James Conway*Nathan Hall Conway
Modified Import: Record Zak Alexander 9.0854 E.T.
Winner: Dustin McManis, Conway Civic .1008 11.13@98mph
Runner UP: Chris Brown, Lonoke Civic ****
Semi: Ozel Jayme Little Rock .217 10.10@107mph
Others: Jorge Vargus * Phillip LaBanca*Zak Alexander
Super Import:
Record 7.2170 E.T.
Winner: Kenny Elrod, Little Rock .075 7.42@137mph
Runner Up: Kevin Baltz, Benton RX 7 .453 8.90@136mph
Semi: Dillion Johnson Bryant .151 10.91@80mph
Others: Dustin McManis* Markale Epps*Abdulla Abunasrah* #1050
THANK YOU GUYS GIRLS FANS
Photo below are my kids and grands CALEB* AMBER * REESE* KITT AND BELOW KORA!!!CONGRATS
Thanks MEL & Amie COLLIER FOR YOUR CONTINUED SPONSORSHIP HERE AT THE VILLE!!!!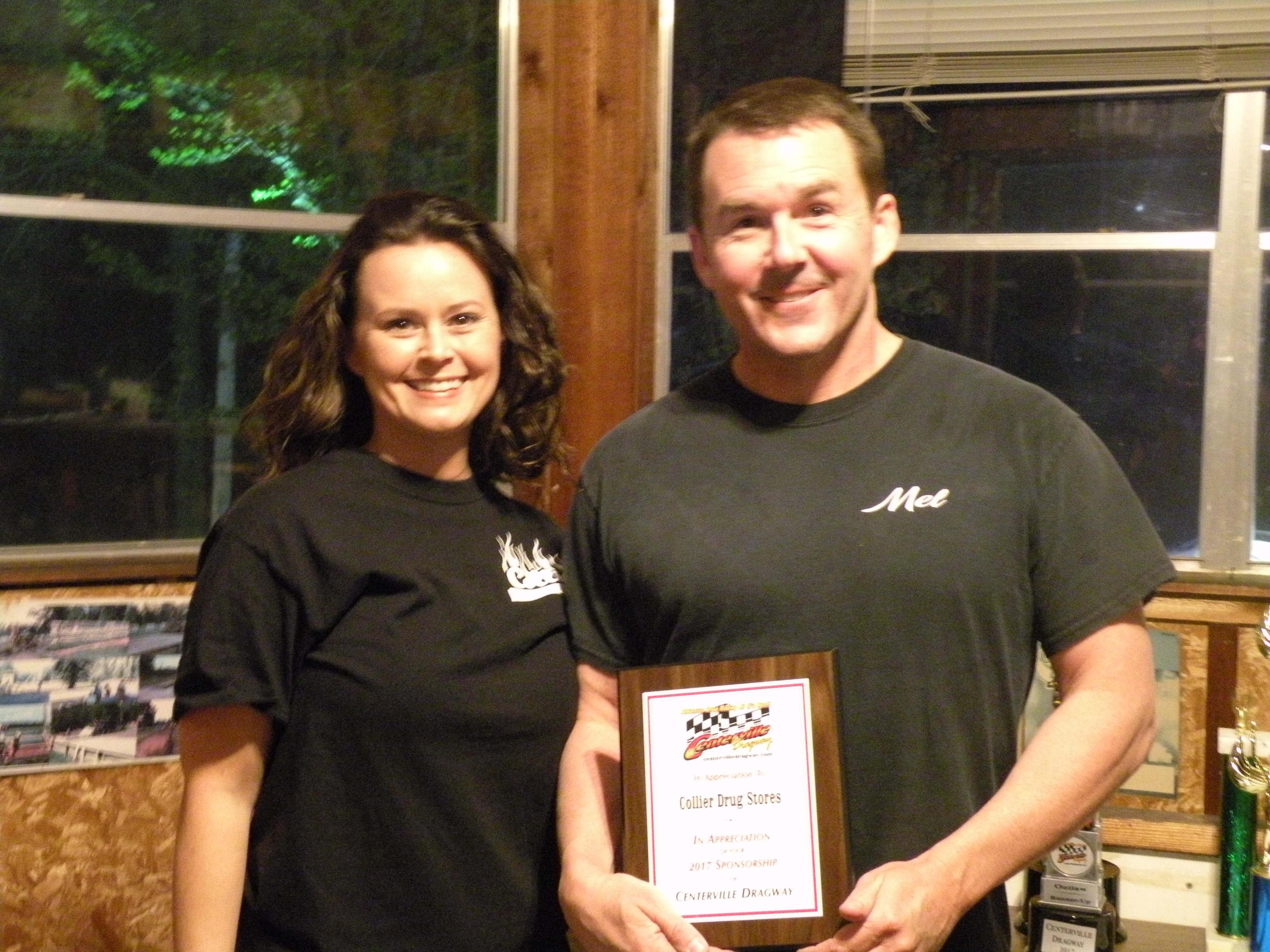 1.
2. STEVE HAYNES, MAUMELLE RAN 14.40 ON 14.400 .500 LIGHT
So come on up and see if you can be a part of the elite racers at Centerville!!
WE ARE LOCATED 11 MILES SOUTH OF RUSSELLVILLE, ARK. ON HWY 7, THEN 1 MILE ON 154 FOR MORE INFORMATION CALL TRACK 479-576-4001 OR EMAIL AT cvdrag@ymail.com