C
CENTERVILLE DRAGWAY RESULTS FROM NEW YEARS BRACKET SHOWDOWN
HECK YA THANKS FOR THE SUPPORT EVERYONE C U FEBRUARY 10TH OR 11TH FOR BRACKET LOVERS!!!
EVEN THO WE HAD OVER CAST CLOUDY SKIES YOU GUYS CAME OUR TO SUPPORT THE VILLE
OUR CREW KEEP A REALLY CLOSE EYE OUT ON THE WEATHER AND DID A GREAT JOB. WE JUST CAN'T RUN AGAINST MOTHER NATURE! WAYNE , MATT & ERIC HAD TRACK PREPPED REALLY GOOD IN FACT WE HAD GUYS RUNNING DEAD ON.
ALL OF THESE GUYS RECEIVED $210
SUPER PRO
DON BOWEN GARFIELD
NICK CURL MT. VERNON MO
BOB WEWER SCRANTON
JEFF RANEY BRYANT
GORDAN LASTER MUSKOGEE OK
STEVE JOHNSON MT. HOME
KYLE CUNNINGHAM GREENBRIER
PRO NO E
JACK LINEBERRY SALLISAW OK
DAVID COLTON CABOT
TROY MIKELL MT VERNON MO
ROBBIE MOORE CONWAY
BRANDON MCMILLIAN AUSTIN
CVILLE SAYS A HUGE THANKS FOR YOUR SUPPORT YOU GUYS ARE AWESOME!!!!!
Results from 25th Annual Street Legal State Championships
Record in OUTLAW MPH SET BY CHAD SHEFFIELD 208.62MPH
RECORD IN OUTLAW E.T. SET BY ALTON HOLSTEAD 3.9938 E.T.
EFI
Winner: Kris Keltner, Vette .324 6.44@165.87 Record!!
Runner UP: Wade Atchison, Russellville .407 8.35@121mph
Semi: Willie Gaddy, L R Vette .123 8.71@112mph
Joel Cox Ok .253 8.44@120mph
Modified Stock
Winner: Anthony McElroy, Atkins Camaro .189 6.98@95mph
Runner UP: Buddy Hill, Stuttgart Pup .030 8.03@83mph
Super Import sponsored by Ugly Car Racing
Winner: Ozel Little Rock .254 8.62@112mph
Runner Up: Dustin McManis, Conway .064 9.20@110mph
Street Radial:
Winner James Kiddy, Cabot Buick .080 7.37@139mph
Runner Up: James Welsh, Russellville .024 15.50 Let off
Semi: Darrin Lewis, Dover Rusty Bob .076 7.83@107mph
Stick Shift Shootout Sponsored by Jerry's Machine Shop & Rogers Garage
CONGRATS TO ADAM ROGERS WHO WILL RECEIVE THE STICK SHIFT POINTS JACKET AND ADDITIONAL $125 FROM pTS $$ CHARLES WHITAKER WILL RECEIVE $100 AND ANDY GRAY $75
Winner: Adam Rogers, Scranton Mustang 7.83 .150 7.88@79mph
Match Race between Dragsters:
Thanks David and Ray for your Support!!
Winner: David Secrest Austin FED .075 4.85@131mph
Runner Up: Ray Sullins, Heber Springs .065 4.94@137mph
Open Wheel Record set by John C Jackson 4.3677 E.T.
Thanks MEL & Amie COLLIER FOR YOUR CONTINUED SPONSORSHIP HERE AT THE VILLE!!!!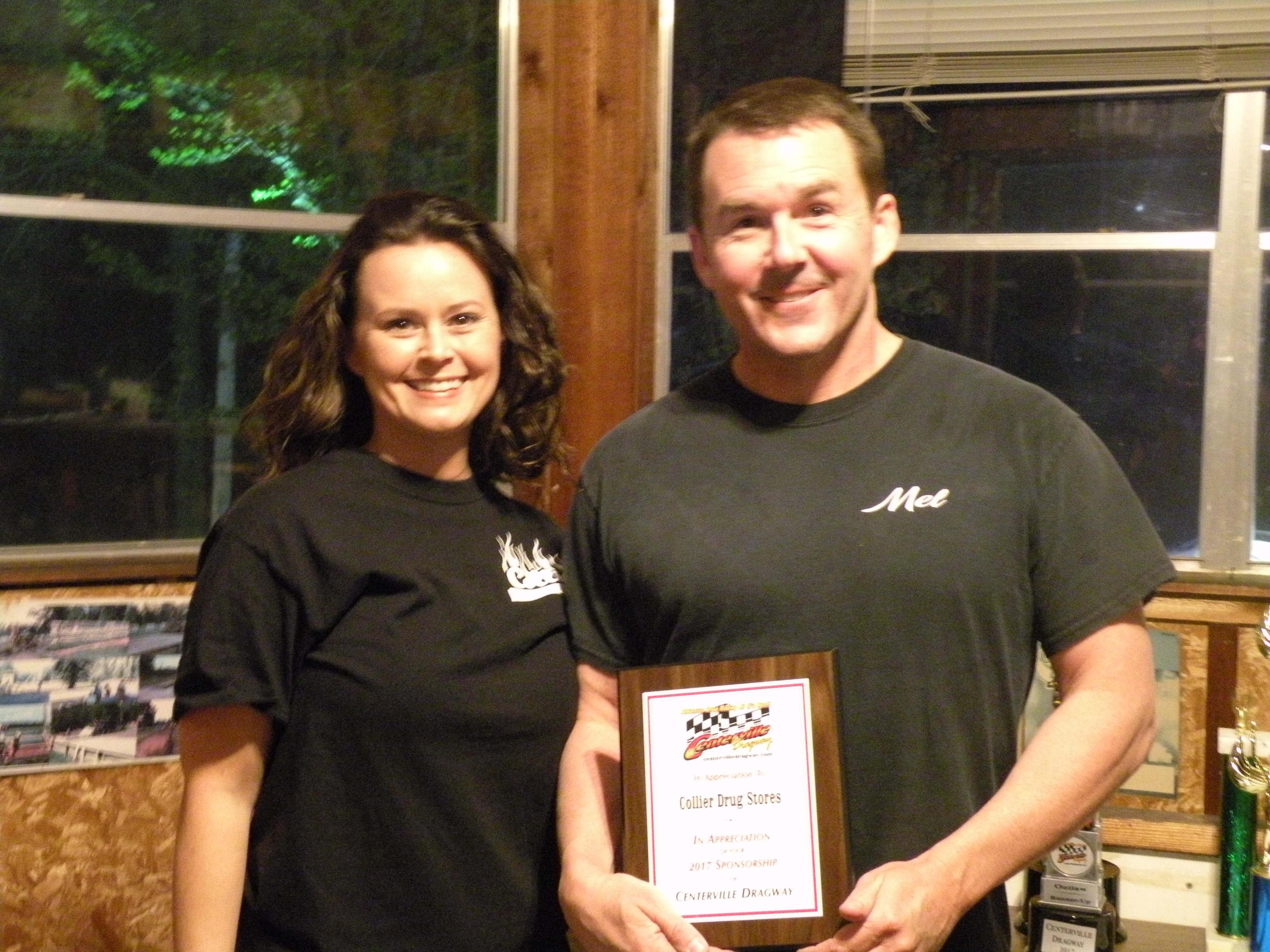 nnual Vi
OUTLAW SHOOTOUT!!
We appreciate Kathy & Larrys Support here @ the Ville
5.01 Larry Boardman, HammerTime .071 4.49@156mph
1.
2. STEVE HAYNES, MAUMELLE RAN 14.40 ON 14.400 .500 LIGHT
So come on up and see if you can be a part of the elite racers at Centerville!!
WE ARE LOCATED 11 MILES SOUTH OF RUSSELLVILLE, ARK. ON HWY 7, THEN 1 MILE ON 154 FOR MORE INFORMATION CALL TRACK 479-576-4001 OR EMAIL AT cvdrag@ymail.com