Saturday August 5th
Arkansas Fastest Street Cars Wild Street sponsored by Rick Johnson
Winner: James Kiddy, Cabot 87 Buick .146 6.00@118mph
Runner Up: Caleb Emberson, Greenbrier 04 Cobra Car Shut off
Arkansas Fastest Street Cars Daily Driver
Winner: Randy McClaren Russellville Mustang .368 10.07@103mph
Runner Up: Bo Glover, Beebe Mustang .552 11.06@101mph
Arkansas Fastest Street Truck :
Winner: John Hearne Morrilton Blue Pick Up .542 7.42@92mph
Runner Up: Jamey Brockman Star City 80 Chevy .216 8.04@84mph
Index Combo
Winner: Dennis McKinney London Ram 11.50 .355 11.5@87mph
Runner Up: John Hearne Morrilton Blue 9.50 .418 9.57@105mph
Next Race Saturday Night Aug 12th OUTLAWS + SMALL TIRE+6.00 & 7.00
HEADS UP STREET LEGAL ACTION
Plus UNLIMITED TNT Gates open at 4:30 time runs 5-11
SUNDAY AUG.13th CLOSED
pPRO/ Super Pro Combo
Winner: Kenneth Collett, Benton 55 Chevy 5.86 .097 5.98@116mph
Runner Up: Craig Davis, Greenwood Roadster 6.11 .009 6.08@110mph
Semi: Steve Scott, Perryville 86 T Bird6.15 .-018 6.15@111mph
John Herring, Mena Dragster 4.65 .-002 5.57@85mph
Qtrs: Andy Gray, Scranton Mustang 6.95 .082 6.93@97mph
Jeff Davis, Lowell Dragster 5.33 .017 5.33@128mph
CENTERville Dragway Result 7-16-2017
Super Pro
Winner : Ken Dillard, Charleston 4.97 .007 4.98@139mph
Runner Up: John Norman, Scranton 6.83 .002 6.85@98mph
Semi: Danny Rader, Russellville 6.01 .030 6.018@112mph
Qtrs: Chad McMillon, Greenbrier 7.25 .001 7.23@93mph
DeWayne Hooker, Batesville 5.15 .019 5.12@131mph
Aaron Reese, Morrilton 7.18.011 7.16@95mph
Pro No E
Winner: Ray Kiefer, Paris 6.29 .051 6.29@106mph
Runner UP: Cody Rogers, Scranton 7.23 .036 7.25@94mph
Semi: Steve Scoggins, Knoxville 6.27 .034 6.33@109mph
Jerry Stafford, Magazine 7.98 .050 8.17@85mph
Street E.T.
Winner: Jack Lineberry, Sallisaw 12.58 .0438 12.58@81mph
Jack and his lil buddy Joe Brooks What a Team!!!
Runner Up: Connie Norman, Scranton 10.43 .047 10.45@95mph
Semi: Red Bailey, Magazine 9.93 .307 10.01@104mph
Qtrs: Candace Howard, LR
Gary Hairston, LR
9-16 : Austin McPhillips* Darrell Francis* Mike Laneer* Jeff Bowman
Jr. Dragsters Sponsored by Ropers Machine Shop*
Winner: Jade Dunn, Morrilton9.10 .025 9.12@71mph
Runner Up: Angel Neff, Perryville 8.34 .209 8.54@75mph
Semi: Joe Brooks, Sallisaw Ok 14.55 .125 14.46@40mph
Dial n for $$ Tyler Green Dialed 7.450 Ran 7.4094 Next Points Bracket $1150
Centerville Country Store: John Etzkorn
Saturday Night JULY 22nd PRO /SUPER PRO COMBO $40 ENTRY
SPECTATORS ONLY $10
GATES OPEN 4:00 RUN FROM 5pm-11pm Test N Tune
Sunday JULY 23rd CLOSED
Saturday July 8th
OUTLAWS:
Winner: #4Q 4.62 Mark Tate, Greenwood 13 Camaro
Runner UP: #3 Q 4.49 Harry Crane, Macho Man Camaro
Semi: #1 Q4.19 Michael Browning, ARKY 4.63@153MPH
#5 Q 4.71 Darrell Kelly Hot Springs
Others: #2 Q4.22 Randy Hipp * #6 Q 4.78 Dean Cameron* #7 Q 5.19 Larry Boardman
SMALL TIRE EXCELLENT RACING HERE! Sponsored by Collier Drug Stores and Larry Boardman
Winner: #5 Q 5.30 Joe Lee Manning, Knoxville Mustang .050 5.10@142mph
Runner Up: Q #2 5.02 Clay Selig, Stuttgart Mustang Broke
Semi: #3 Q 5.08 Brian Hice, Paris Malibu .074 5.13@138mph
#1 Q 4.96 Ryan Surrett, England black Mustang .043 5.05@146mph
Others: #4Q 5.21 Marc Daniels* #6 5.47Q Mike Gongola * #7 Q5.89 Dustin Estep*#8 7.71 Bobby Kruck
6.00 Index
Winner: Danny Rader, Russellville 6.00 .009 6.04@108mph
Runner UP: Shane Nugent, Sheridan 6.00 .129 6.00@111mph
Semi: Danny Needham, Clarksville 6.00 .065 6.03@118mph
John Tripp, Clarksville 6.00 .021 6.03@115mph
Others: Joey Nugent*Gary Ballard*Brandon Renfrow
7.00 Index
Winner: Jake Ballard, Conway 7.00 .104 7.08@97mph
Arkansas Fastest Street Cars Wild Street sponsored by Rick Johnson
GREAT JOB RICK KEEPING IT HOT AT THE VILLE!!! cHECK OUT THE TROPHIES
Winner: Jeff Spear, Van Buren .110 5.19@140mph
AFSC Daily Drive
WE NEED DRIVERS SUPPORT ON THE NEXT AFSC RACE NEED MORE THAN A TOTAL OF 8 CARS!!
RICK WILL LET US KNOW WHAT HE WANTS TO DO AFTER THIS NEXT RACE THANKS
Winner: Tommy Wyne, Van Buren .288 9.49@114mph
Winner: #1 Q 4.37 Michael Browning, LR Arky .154 4.57@158.56mph
Runner Up: #5 4.83 Marc Tate, and NEW SPONSOR RON LEWIS Greenwood .058 4.81@146mph
Small Tire Shootout sponsored by Collier Drug Stores WHAT A HECK OF A SHOW GUYS !!
Winner:#3 Q 4.91 Ryan Surrett, England .113 4.91@149mph
gOOD Times at the Ville Thats what we are talking about!!!
Pro No E
WWinner: Eric Foster, Pottsville 5.95 .051 5.96@113mph
Street E.T.
Winner: Dayden Colton Cabot 14.11 .009 14.21@71mph
1ST TIME WIN AT THE vILLE FOR THIS YOUNG gENTLEMAN wHO LEARNED IT FROM dAVID!!
Jr. Dragsters Sponsored by Ropers Machine Shop!!!
Winner: Jade Dunn, Morrilton 8.92 .116 8.928@72mph
Centerville Country Store:
Kids Pix Tori Rader Picked her Grandpa Rader as her Favorite Race car Driver and received $10 to Wal Mart
and received $10 to Wal Mart
Super Pro /Pro No E Combo
Open Wheel Record set by John C Jackson 4.3677 E.T.
Winner: John C Jackson, Star City 4.36 .057 4.37@156mph
Jr. Dragsters Sponsored by Ropers Machine Shop!!! Kruck Racing!!
Scotty Kruck, Benton
Winner : John Tripp, Clarksville 5.90 .027 5.92 @116mph $375 Split
Pro No E
Winner: Adam Rogers Scranton 6.08 .125 6.30 @91mph
Thanks MEL COLLIER FOR YOUR CONTINUED SPONSORSHIP HERE AT THE VILLE!!!!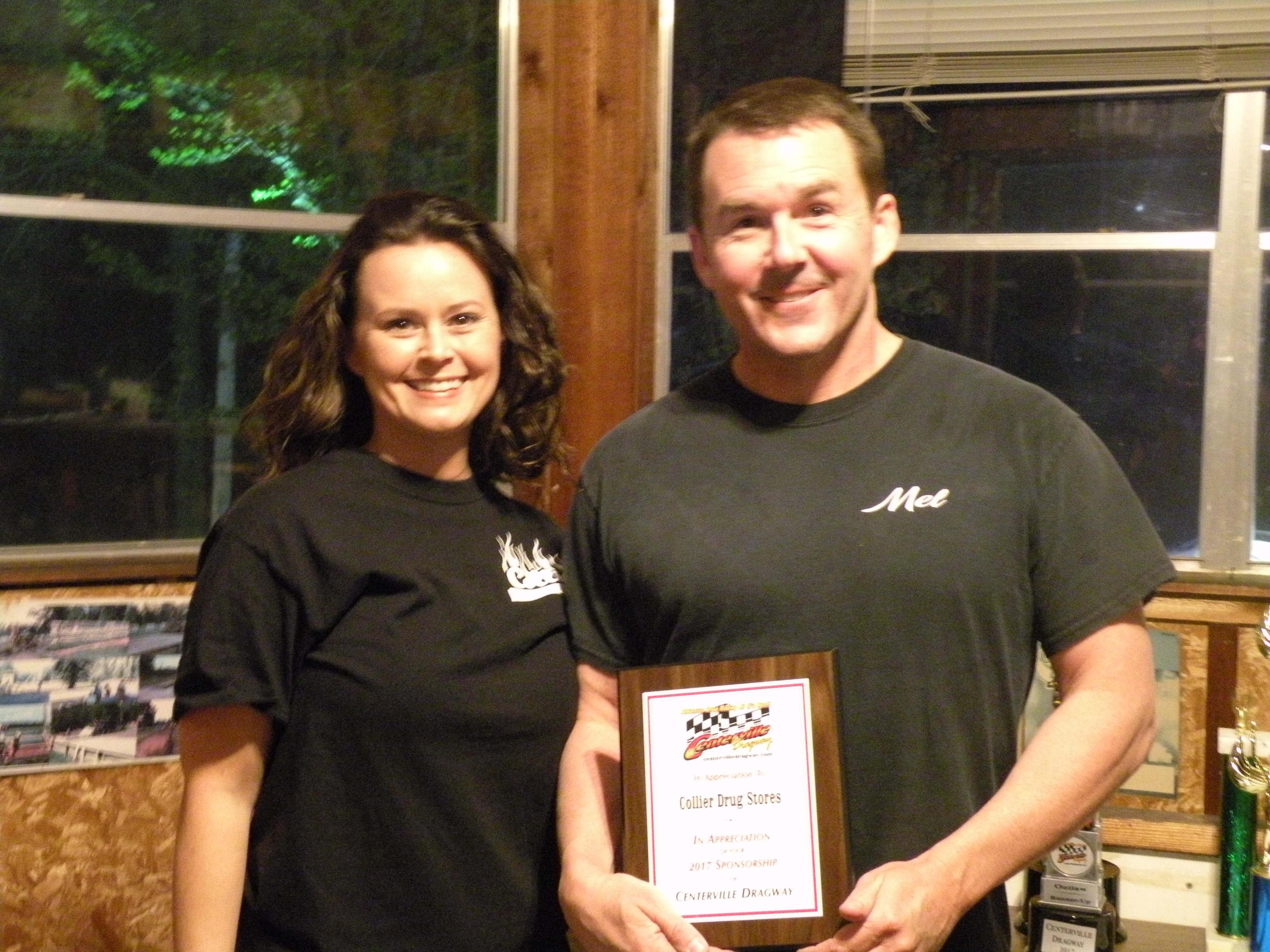 SMALL TIRE SHOOTOUT 23 CARS
OUTLAWS
Winner: #2 Michael Browning, Little Rock Willis .219 4.61@166mph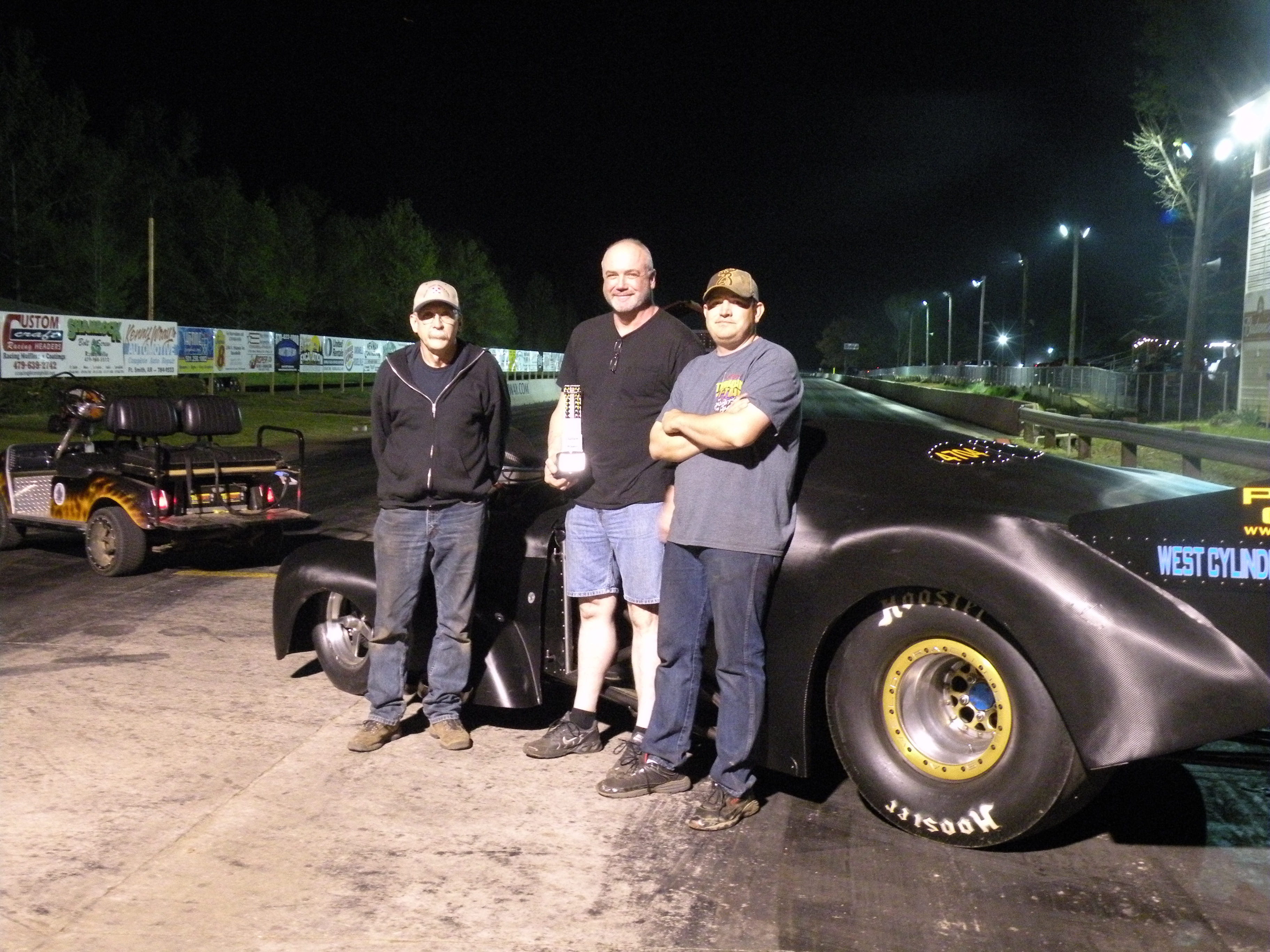 Centerville Dragway Bracket Lovers
Winner: John Tripp, Clarksville 5.91 .006 5.91@115mph
Thanks to Allen Bridges for Bringing the Nostalgia Dragsters
and JAMES HARDMAN FOR BRINGING THE FUNNY CAR ORIGINALLY DRIVEN BY BOB PICKETT
Wal Mart Kids Pix Kaleb Smith Alma picked Jimmy Ray
Our Lil Reesecup managed to squeeze iN Pic!!

	rs* Tim Taylor* Jeff Bowman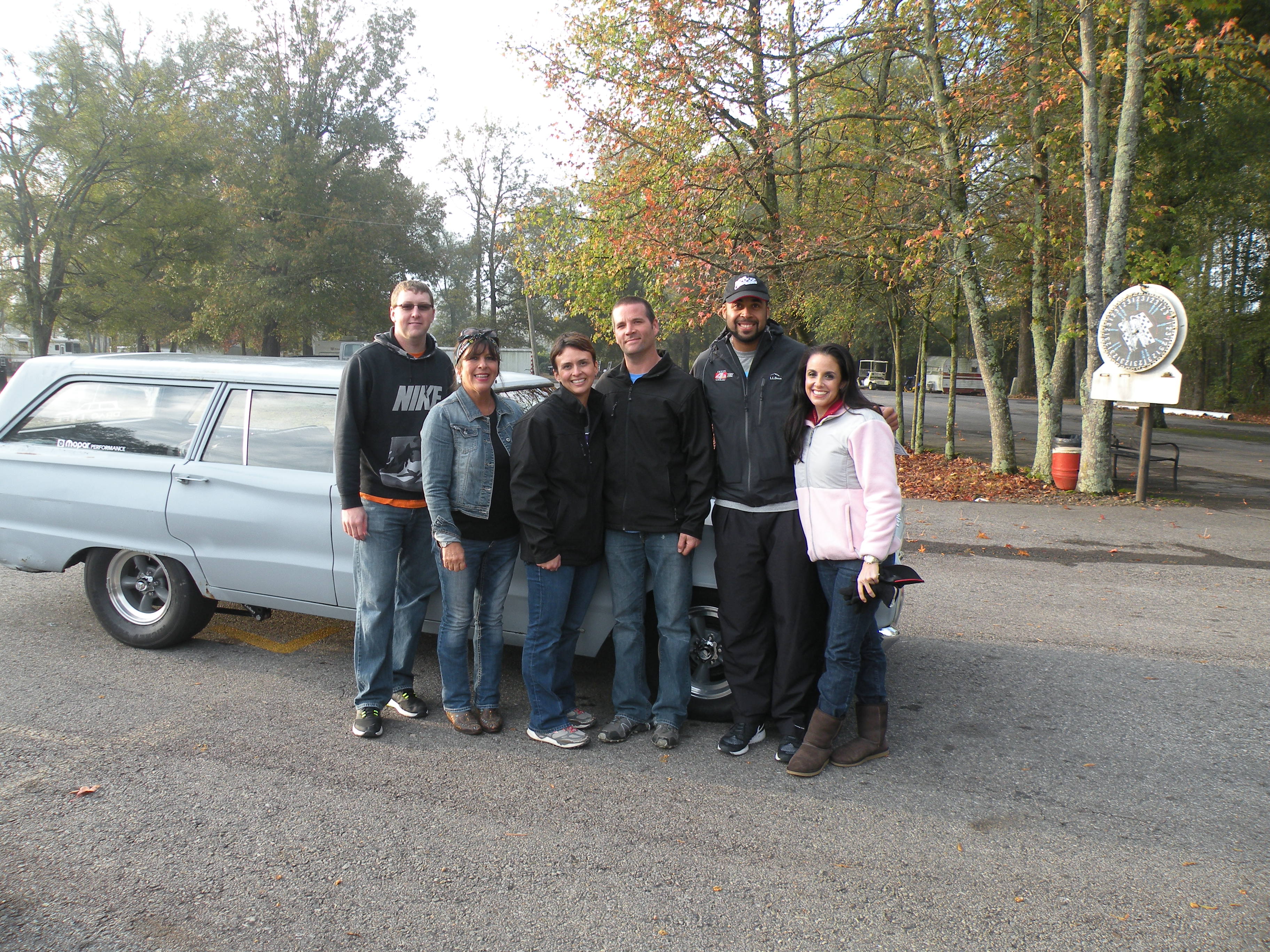 Thanks D J and Kerra & Justin for your Dare @ the Ville
Thanks Eric & Sunny for waking up soooo early and loaning your drag wagon!!!
Brian Thompson, Lead Hill
JAMES KIDDY WAS THE MACKEY MEMORIAL WINNER!!
OUTSTANDING STREET LEGAL CAR
t annual Vi
OUTLAW SHOOTOUT!!
We appreciate Kathy & Larrys Support here @ the Ville
5.01 Larry Boardman, HammerTime .071 4.49@156mph
1.
2. STEVE HAYNES, MAUMELLE RAN 14.40 ON 14.400 .500 LIGHT
So come on up and see if you can be a part of the elite racers at Centerville!!
WE ARE LOCATED 11 MILES SOUTH OF RUSSELLVILLE, ARK. ON HWY 7, THEN 1 MILE ON 154 FOR MORE INFORMATION CALL TRACK 479-576-4001 OR EMAIL AT cvdrag@ymail.com