CENTERVILLE DRAGWAY
Bracket Lovers Race Feb 20th or 21st
$1000 Win
SUPER PRO 1/8TH MILE Combo Race New Years Race
Due to Rader Breaking three Racers Split $$
Danny Rader Russellville Camaro 6.03 .0200 7.51 Broke Tranny $1085
Logan Diggs, Carthage Mo Nova 7.66 .015 7.67@89mph $1085
Kenneth French, Rison Pick UP Drove In 9.94 .087 9.97@72mph $1085
SEMI: Gordan Lasater Muskogee Ok 7.18 .000 7.15@96mph $250
QTRS: Shane Reese Carhtage Mo 64 Chevy 6.45 .-009 6.47@98mph
JOe Lawyer Mo. Dragster 5.08 .-007 5.08@137mph
Jeremy Maples Courty Ok 5.78 .019 5.80@120mph
9-16: Eric Foster Pottsville 5.92 .096 5.93 @116mph
Ken Hall, Rogersville 6.72 .094 6.67@99mph
John Tripp Clarksville 5.78 .048 5.78@120mph
Wayne Trammell Yellville 4.85 .-007 4.86@143mph
Corey Coffee, Ok 6.23 .005 6.21@106mph
Logan Diggs, Carthage Mo 7.62 .-006 7.66@89mph
JUNIOR DRAGSTERS
WINNER:John Uptigrove Dover 8.76 .145 8.81@72mph $100
RUNNER UP:Angel Neff, Perryville 10.78 .142 10.87@57mph $50
THANKS EVERYONE FOR YOUR SUPPORT!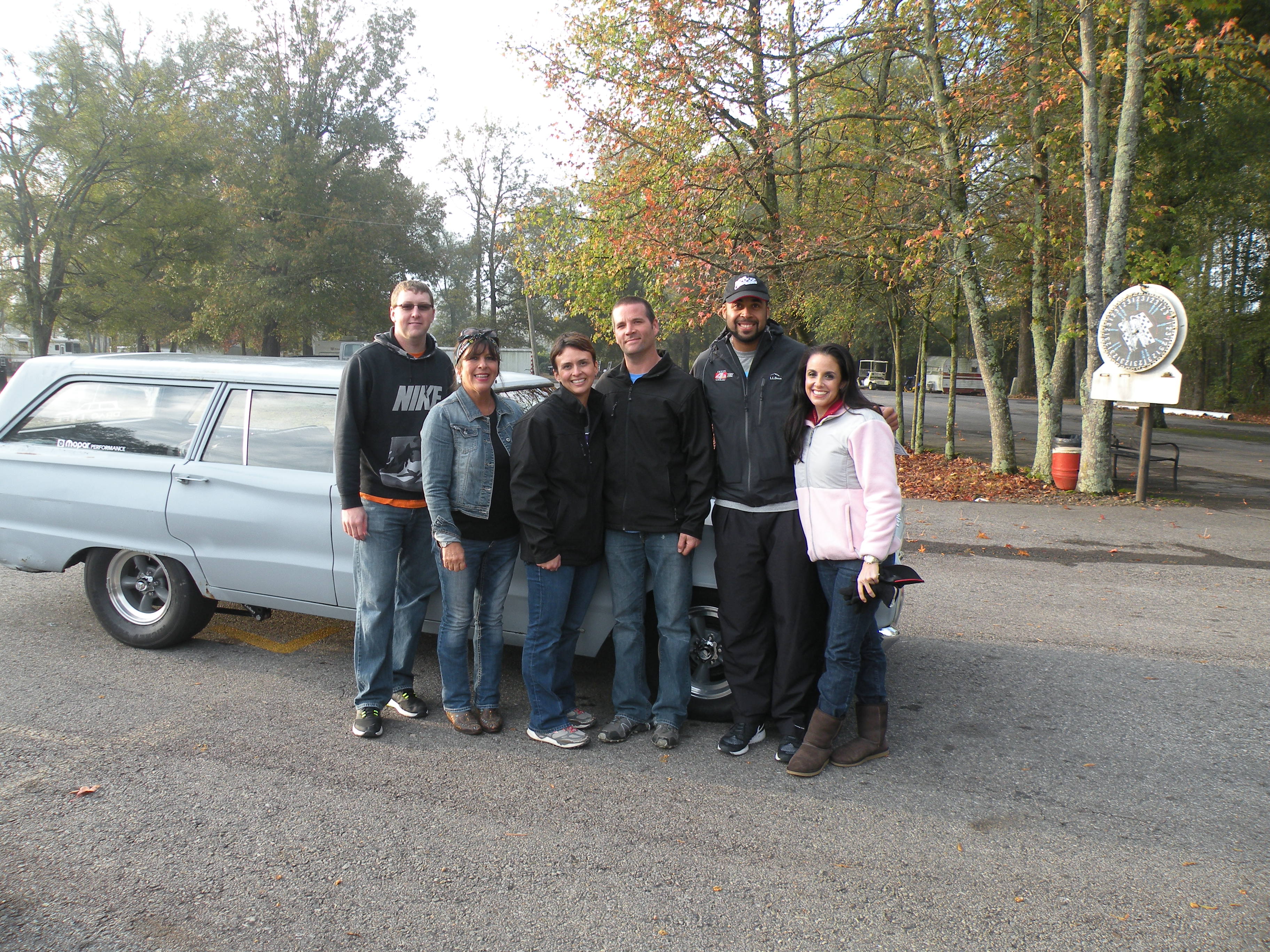 Thanks D J and Kerra & Justin for your Dare @ the Ville
Thanks Eric & Sunny for waking up soooo early and loaning your drag wagon!!!
Brian Thompson, Lead Hill
Kids Pix: Skylar Karther Picked Deidra Rogers as her Favorite Race Car Driver
and received $10 to Wal Mart
ARKANSAS FASTEST STREET CARS COMING BACK AND RACING FOR POINTS AND JACKET!! Special thanks to Chris Helms & Rick Johnson
ARKANSAS FASTEST STREET CARS
#1 Derrick Kelly, 91 Mustang Lowell Ar
#2 Alex Koch, 65 Impala Morrilton
# 3 Jacob Wright,Mustang Van Buren
# 4 Caleb Emberson, 04 Cobra Wooster
# 5 Eric Foster, 67 Cornet Wagon Pottsville
#6 Joey Welsh, Russellville Vette
#7 Joey Holcomb 2011 Mustang Hector
#8 Alex Charity Alma
#9 Darryl Cole, 78 Camaro Booneville
#10 Jess Gililland, Mustang Briggsville
2015 STREET LEGAL STATE CHAMPS RESULTS
IT IS UNFORTUNATE WE COULD NOT FINISH RACE DUE TO CRASH THAT TOOK OUT OUR TIMING SYSTEM SO WE DECIDED TO SPLIT $$ WITH THOSE LEFT IN EACH CLASS.
BUT AWESOME RACIING UP INTIL THEN!! 164 CARS SEVERAL RECORDS BROKEN!
ck out Bryan Baileys Picks and order some today
at www.flickr.com/photos/bbailey60
JAMES KIDDY WAS THE MACKEY MEMORIAL WINNER!!
OUTSTANDING STREET LEGAL CAR
OUTLAW: 13 cars E.T. Record 4.0935
Brad Meador winner of Outlaw Jacket Series
Winner: Michael Browning Record 4.0935@183.30 $1250 each
Runner Up: Harry Crane" Macho Man"
Semi: Alton Holstead Blew Blower Belt Broke 60' .9669
Qtrs: Mike Seavers Dardanelle
Brad Meadors Hackett
Kevin Heflin Poteau Ok
Small Tire Shootout 27 cars
In the Split was
Troy Emberton winner of Small Tire Jacket Series
#2 Q 5.12 Randy Westmorland Leash Electronics Pick UP NLR
#3 Q 5.20 Wesley Otwell Ft.Smith
#5 Q 5.28 Joe Lee Manning Knoxville
#7 Q 5.30 Derrick Kelly Blue Mustang Lowel
5.50 Door Slammer Index: 110 each
Bill Dowdy* Gary Ballard* Craig Stevens* Brian Kelly
6.00 Door Slammer Index $150 each
Ed Myers* Aaron Queen* Danny Needham* Randall Staggs* David Bryant
7.00 Door Slammer Index: $120 each
Matt Lane* Andy Gray* Kenneth French* Skipper Raymick* Mickey Smith*
Brent Roper* Seth Curtis* Cole Wilson* Harvey Owen
EFI:
Winner: James Kiddy Cabot Buick 7.69@134mph
RunnerUp : Ryan Aycock Broke
Real Street EFI
Winner: Lester Miller Wynn.499 8.69@125mph
Runner UP: Lance Lawhorn
Semi: Tommy
11.50 Index
Winner Joey Holcomb Danville 11.50 .212 11.44@84mph
Runner UP: Paul Michelletti Ft. Smith 11.50 .335 11.22@87mph
10.50 Index $75 each
David Moore Jr.* William Mitchell* Christopher Collins* Don Holcomb
9.50 Index
Winner: Steve Dickinson Russellville 9.50 .238 8.89@84mph
Runner UP: Ronnie Spires 9.50 .501 9.65@105mph
Semi: Greg Caldwell Greenbriar .326 10.28@108mph
David Jones Solgahacia .276 9.46@99mph
Modified Stock Eliminator
Lance Fowler record 6.4578 E.T. A105.16mph
Lance and Mike Tippit received $150 each
Semi: Brian Hice was winner of Modified Stock Jacket
Semi: Mark Pratt
2nd Chance Mod Stock
Winner: Anthony McElroy
Runner Up: George Strobel
Semi: Buddy Hill
Big Truck Radial: Record 7.8573@126.12 Darin Lewis
Winner: Darin Lewis Pottsville .158 7.85@126mph
Runner UP: Anthony McElroy .038 8.09@122mph
Street Radial:
Winner: Russell Kyzer/Roger Jones .-235 7.38@136mph
Runner UP: James Kiddy, .-300 7.65@133mph
Semi: Jake Ballard .155 8.04@125mph
Anthony McElroy .102 8.08@122mph
8.00 Index
Troy Halsey * Scott Timmerman* Chris Brooks $115each
Qtrs: Buddy Hill * Red Bailey* & Kenneth French
Street Import:
Israel Hernandez * Ryan Norris* Jacob Sowell
Super Import: Records Both Set!!
Winner : Jason Lumpkin Ft. Worth Record 144.42mph
Runner UP: Oziel Jayne Mabelvale E.T. Record 7.8159
Semi: Devin Glover
1st annual Vintage DRags
Wayne & Bear Brantely
VINTAGE DRAGS @ THE VILLE!!
GLAD TO SEE SOME OF THE OLD TIMERS OUT AND VISIT WITH THEM
THIS WAS SET UP BY BEAR BRANTLEY AND THE ARKANSAS DRAG RACERS PAST & PRESENT
MORE PICS ON THERE SITE!!
OUTLAW SHOOTOUT!!
We appreciate Kathy & Larrys Support here @ the Ville
Winner:#1 5.01 Larry Boardman, HammerTime .071 4.49@156mph
Super Pro:
WINNER: Kyle Cunningham, Greenbrier 5.05 .009 5.09@129mph
Ray Kiefer, Paris to Sponsor the TRACK IN 2016 +++ BOUNTY $$
FOR ALL CLASSES!!!
Jr. Dragsters sponsored by Ropers Machine Shop
TO SPONSOR JR. DRAGSTERS 2016!!
Winner: Hollie Cossey, Russellville 8.52 .073 8.60@74mph
Runner UP: Luke Wewer, Scranton 8.57 .122 8.61@72mph

TEAM RACE WINNERS SONNY D'S 19 points
Eric Foster *Danny Rader* Reba Rader
Danny Needham* Jack Materna * Chuck Needham
TEAM OVER ALL WINNERS:
SUNNY D'S 20+7+ 19+13= 59 WINNERS!!
JERRY'S KIDS 10+8+12+5=35
JACKSON 5 +1 9+12+16= 37
ODD SQUAD 16
GRUMPYS KIDS 15
DUN ROVIN 15
MILITARY MAFIA 15
W C R 12
RATS 11
BAD CHAD 10
4 STICKS 2 CHICKS 8
THE 479 7
UNPREDICTABLE'S 3
Stick Shift Shootout
Winner :Matthew Frederick, Scranton 6.04 .128 6.09@111mph
Runner UP:Colter Stafford, Magazine 6.74 .175 6.87@101mph
Street Radial:
Winner: Q #2 7.47 Roger Jones, Vilonia .116 7.37@136mph
Runner Up:Q #1 7.37 Jim Welsh Rsvl Luv .047 7.79@135mph
Semi: Q #3 7.56 Austin Kyzer Conway Mustang .047 7.79@135mph
Others: #4 Jake Ballard Conway* #5 Anthony McElroy Atkins *
#6 Harvey Owen Beebe Vette
#1 Brian Brett, Cherry Valley Bad Street Mustang 1ST SHOOTOUT
# 2 Derrick Kelly Lowel 91 Mustang
AWESOME JOB DERRICK!
#3 Eric Foster, Pottsville Mopower Wagan
#4 Will Himes, Farmington Mustang
#5 Haley Baker Judsonia Camaro
#6 Jacob Wright Van Buren, Mustang
JACOB HAVING LIL TOUGH LUCK BUT WILL BE BACK!
#7 Justin Siemens Lamar Orange Vette
# 8 Harvey Owen Beebe Vette
#9 Robbie Chandler, Russellville 2009 G8
#10 Caleb Emberson, Greenbrier Mustang
Others: Doc Baker*Earl Free*Chris Beard*Steve Sweere*
John Barnes Jr* Chuck Needham* Wade Atchison* James Kiddy
Miguel Mercado*Ryan Aycock*Jimmy Phillips*Cody Kelly*
Randy Ritchey*Anthony Smith
Super Pro: RADER RACING TEAM
Pro No E:
WINNER: Mike Wagner, Mena 6.24 .069 6.25@105mph
Street E.T:
Winner: Sean McPhillips, Clarksville 10.31 .141 10.56@81mph
Jr. Dragsters sponsored by Ropers Machine Shop
1ST TIME IN THE WINNERS CIRCLE!!
Winner: John Uptigrove Jr. Dover 8.75 .188 8.84@72mph
Runner UP: Angel Neff, Perryville 10.78 .329 10.68@60mph
Small Tire Shootout:
Winner : Q # 1 5.38 Kevin Rounsavall, Carlisle.043 5.38@134 mph
Runner Up: Q # 2 5.51 Jacob Wright, Van Buren .036 10.81Let Off
Special Guest "Dennis" from Discovery Channels Texas Car Wars
Team Old Skool Kustoms !!! Photo of Wayne & Dennis in the Tower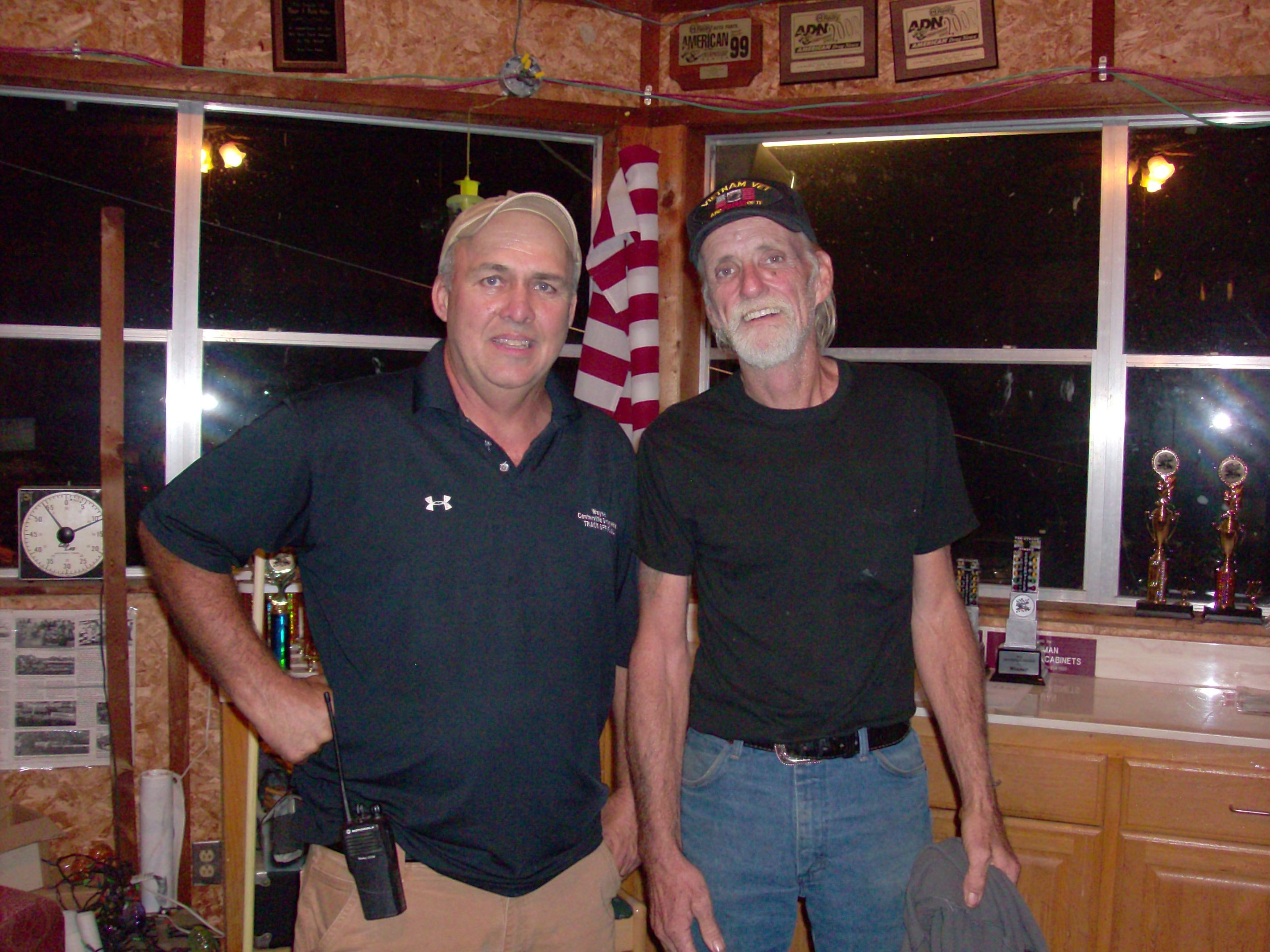 10 mile drive at the VILLE!!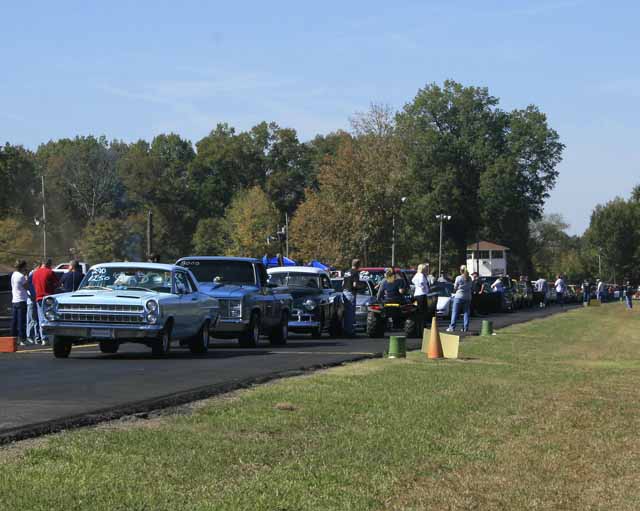 *Collier Drug Stores
Packaging Specialties
Kenny Wray's Automotive*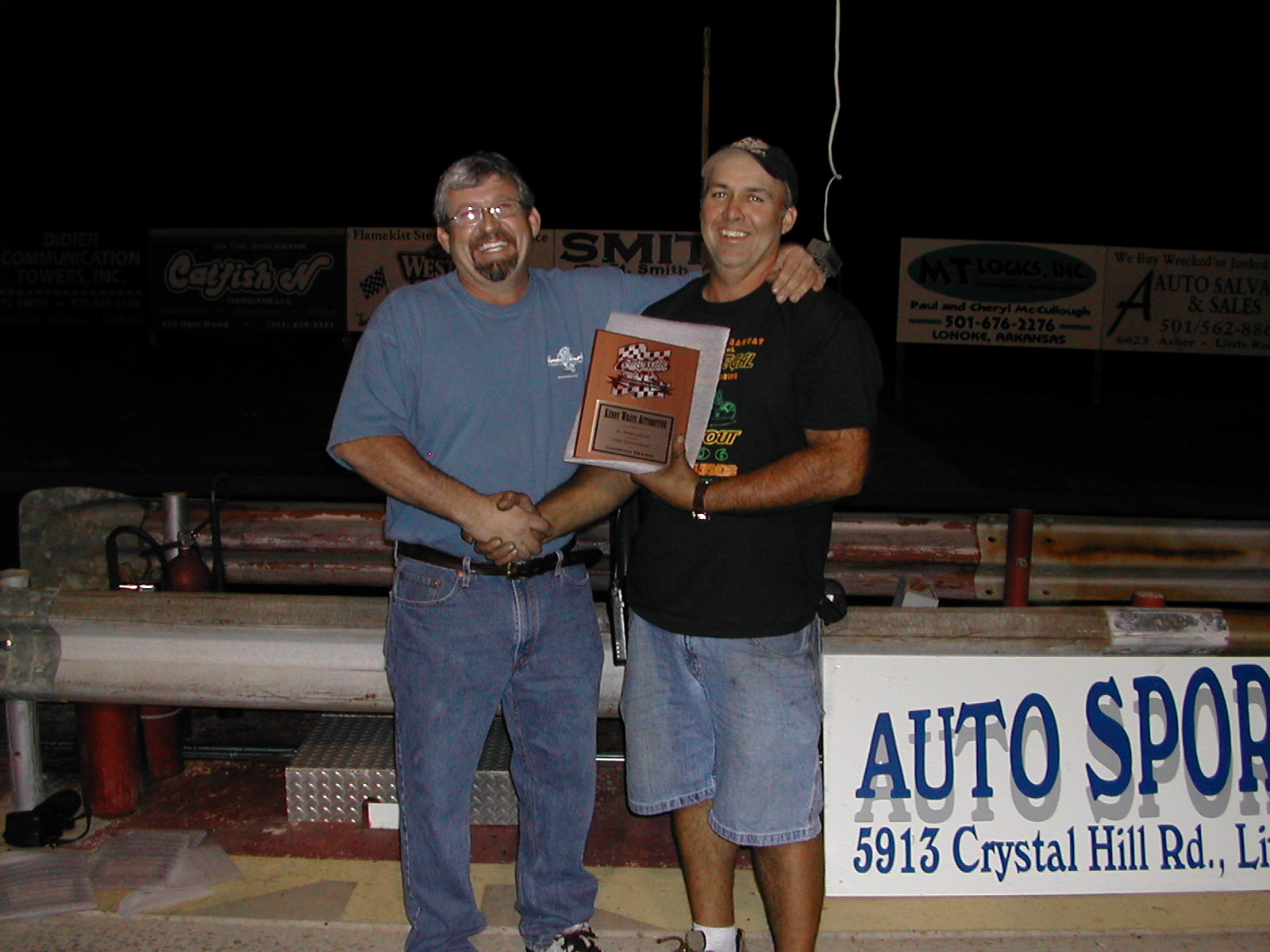 PERFECT RUN CLUB AT CENTERVILLE!!
THESE FOLKS HAVE RUN THE NUMBER DEAD ON WITH AN "O" AND .500 REACTION LIGHT
1.
2. STEVE HAYNES, MAUMELLE RAN 14.40 ON 14.400 .500 LIGHT
3RD Mr. Ken Jordan .500 Dialed 5.28 Ran a 5.280
4th . David Hughes from Dardanelle ran
5th Bobby Wewer, Scranton Ran 6.260 with a .500 light on 6 -18-06
6TH Darrell Francis, Danville 11.04 11.04 .000 light
So come on up and see if you can be a part of the elite racers at Centerville!!
WE ARE LOCATED 11 MILES SOUTH OF RUSSELLVILLE, ARK. ON HWY 7, THEN 1 MILE ON 154 FOR MORE INFORMATION CALL TRACK 479-576-4001 OR EMAIL AT cvdrag@ymail.com
SPORTSMANSHIP AWARD WINNERS AT CENTERVILLE DRAGWAY
Eric Foster Dave Hellerich
The Best Racers are the ones who can wish each other luck before the race, go out on the track and give a 110% effort to win, then go shake the opponents hand win or loose.
below the Famous Centerville Dragway 10 mile Drive!! Thanks again Racers & Fans for your continued Support!
Coming This OCtober DON ' T MISS THIS !!