C

CENTERVILLE DRAGWAY RESULTS final final

Super Pro/ Pro Combo 1/8th Mile

Winner: Lonnie Cunningham, Greenbrier 5.39 .015 6.12@92mph
Runner UP: Cody Rogers, Scranton 7.65 .-017 7.66@91mph

Semi: Kyle Cunningham, Greenbrier 5.03 .424 5.13@135mph

Roy Cook Greenwood 7.93 .054 7.92@87mph

Qtrs: Jeremy Synder, Russellville 6.57 .078 6.51@104mph

John Norman, Scranton 7.86 .097 7.86@85m[h

Jr. Dragsters sponsored by Ropers Machine Shop*

Winner: Angel Neff, Perryville 8.75 .232 8.82@75mph

Runner UP: John Uptigrove, Dover, 7.95 .119 7.92@74mph

Semi: Scotty Kruck, Benton Broke

Dial N For $$ Winner after Everyone had a Chance at it was Joe Lawyer!! 1450$$

RACE OF CHAMPS SUPER PRO $200 WINNER $100 RUNNER UP

DARREN GRUBB, VAN BUREN 5.08 .024 5.18@131
KIRK CUNNINGHAM GREENBRIER BROKE
RACE OF CHAMPS PRO NO E
CODY ROGERS
JOHN NORMAN
RACE OF CHAMPS STREET DAVID COLTON
DARRELL FRANCIS
RACE OF CHAMPS JR. DRAGSTERS
ANGEL NEFF
SCOTTY KRUCK
NEXT RACE IS THE NEW YEARS BRACKET SHOWDOWN!!
$50 ENTRY COMBO FOR $2018 TO WIN AND $1000 RUNNER UP
HAVE A SAFE AND HAPPY HOLIDAY SEASON
Centerville Dragway Result 11-5-2017 WHAT A RACE GUYS GIRLS
Super Pro SPONSORED BY SHAMROCK BOLT & SCREW!
Winner : Wayne Trammell, Yellville 4.99 .0834 4.985@138mph
Runner Up: Mike Wagner, Mena 5.61 .002 5.58@123mph
Semi: John Tripp, Clarksville 5.84 .044 5.82@118mph
Qtrs: Don Bowen, 5.87 .000 6.00@113mph
Jeremy Maples, Coweta Ok 4.51 .014 4.53@149mph
9-16: R J Goodnight, Greenbrier 5.40 .032 5.55@115mph
Keith Hall, Tonitown 5.31 .023 5.55@127mph
Patrick McFadin, Springdale 6.70 .-002 6.47@102mph
Jeff Brotherton, Mena 6.46 .039 6.47@102mph
Pro No E SPONSORED BY UNITED RENTALS
Winner: Jalen Whitmore, Sherwood 6.50 .019 6.53@102mph
Runner UP: Keith Morton, Hope 6.37 .036 6.30@108mph
Semi: Randall Staggs, Russellville 6.09 .089 6.05@112mph
Qtrs: Kevin Schnieder, Havanna 7.00 .-025 7.03@97mph
John Norman, Scranton 8.01 .059 7.90@85mph
9-16 Eric Foster, Pottsville 6.07 .037 6.05@112mph
Wyatt Wagner, Ks 6.28 .027 6.28@107mph
Shane Rees 7.04 .077 7.04@94mph
Duston Avondet, Mo 6.03 .062 6.01@113mph
Street E.T.sponsored by CENTERVILLE COUNTRY STORE
Winner: Mike Lanner, Clarksville 11.78 .066 11.79@89mph
Runner Up: Tim Taylor, Waveland 12.10 .161 12.72@84mph
Semi: Ray Kiefer, Paris 11.20 .070 11.27@93mph
Qtrs: David Colton, Cabot 10.47 .139 10.42@96mph
Darrell Francis, Danville 11.28 .-299 11.28@91mph
Harry Barker, Ok 11.11 .-020 11.19@92mph
Jr. Dragsters Sponsored by Ropers Machine Shop*
Winner: Emma Gannaway, Morrilton 7.75 .095 7.78@80mph
Runner Up: Liam Shuffield, LR 7.63 .077 7.69@80mph
Semi: Angel Neff, Perryville 8.43 .032 8.50@76mph
Jade Dunn, Morrilton 9.11 .096 9.15@71mph.
Saturday November 4th
Combo Bracket Race
Winner : Jeremy Maples Ok 4.51 .019 4.53@139mph
Runner UP: John Norman, Scranton 7.99 .034 8.04@84mph
Semi: Scott Wagner Bonner Springs Ks 5.95 .-014 5.94@115mph
Andy Gray, Scranton 7.03 .010 7.21 6.44@105mph
Qtrs: Jeff Brotherton, Mena 6.44 .037 6.44@105mph
Eric Foster Pottsville 6.02 .085 6.08@113mph
9-16 Mike Wagner * Casey Dilbeck* Shawn Silvey* Nick Curl
Street E.T.
Winner : David Colton 10.48 .046 10.47@95mph
Runner UP: Harry Barker, Chauteau Ok 11.15 .055 11.12@92mph
Semi: Don Holcomb Danville 10.40 .-137 12.35@64mph
Qtrs: Jackson Rogers, Scranton 10.96 .058 10.99@87mph
Jack Lineberry Sallisaw 12.37 .058 12.46@82mph
9-16 Gary Hairston* Red Bailey* Chris Brooks* Shown Covey
Jr. Dragsters sponsored by Ropers Machine Shop
Winner: Angel Neff, Perryville 8.53 .121 8.62@75mph
Runner UP: John Uptigrove Jr. Dover 7.72 .268 7.75@83mph
Semi: Emma Gannaway Morrilton 7.79 .306 7.76@81mph
Noah Sparks Nixa Mo 11.93 .358 11.92@54mph
Pit Bike Extravaganza!! 50 Golf Carts, Mules, Scooters & 4 wheelers Oh my Gosh!
Thanks to Mike Morehead and Wayne for the Dial N's Too Much Fun!!
Winner: Jalen Whitmore 7.90 .104 7.91 Mule
Runner UP: Shane Rees 19.400 .076 19.65 Golf Cart
Super Pro
Winner : Kirk Cunningham, Greenbrier 5.14 .037 5.14@133mph
CONGRATS TO OUR SON N LAW ON THIS WIN AND FOR ALL HE DOES HERE!!
Street E.T.
Winner: David Colton, Cabot 10.42 .033 10.41@93mph
Jr. Dragsters Sponsored by Ropers Machine Shop*
Winner: Luke Wewer, Scranton 7.52 .123 7.529@82mph
Results from 25th Annual Street Legal State Championships
Record in OUTLAW MPH SET BY CHAD SHEFFIELD 208.62MPH
RECORD IN OUTLAW E.T. SET BY ALTON HOLSTEAD 3.9938 E.T.
ALL OTHER CLASSES MONIES WERE SPLIT DUE TO R WORD!
THANKS TO ALL RACERS AND FANS WHO SUPPORT THIS RACE EVERY YEAR TO MAKE IT WHAT IT IS!!
WE DO APPRECIATE YOUR SUPPORT!
EFI
Winner: Kris Keltner, Vette .324 6.44@165.87 Record!!
Runner UP: Wade Atchison, Russellville .407 8.35@121mph
Semi: Willie Gaddy, L R Vette .123 8.71@112mph
Joel Cox Ok .253 8.44@120mph
Modified Stock
Winner: Anthony McElroy, Atkins Camaro .189 6.98@95mph
Runner UP: Buddy Hill, Stuttgart Pup .030 8.03@83mph
Super Import sponsored by Ugly Car Racing
Winner: Ozel Little Rock .254 8.62@112mph
Runner Up: Dustin McManis, Conway .064 9.20@110mph
Street Radial:
Winner James Kiddy, Cabot Buick .080 7.37@139mph
Runner Up: James Welsh, Russellville .024 15.50 Let off
Semi: Darrin Lewis, Dover Rusty Bob .076 7.83@107mph
Stick Shift Shootout Sponsored by Jerry's Machine Shop & Rogers Garage
CONGRATS TO ADAM ROGERS WHO WILL RECEIVE THE STICK SHIFT POINTS JACKET AND ADDITIONAL $125 FROM pTS $$ CHARLES WHITAKER WILL RECEIVE $100 AND ANDY GRAY $75
Winner: Adam Rogers, Scranton Mustang 7.83 .150 7.88@79mph
Jr. Dragsters Sponsored by Ropers Machine Shop*
Winner: Scotty Kruck, Benton 7.71 .062 7.6@82mph
Match Race between Dragsters:
Thanks David and Ray for your Support!!
Winner: David Secrest Austin FED .075 4.85@131mph
Runner Up: Ray Sullins, Heber Springs .065 4.94@137mph
Dr Parker Winner of 1st Annual No Prep Race
Daniel Wright wins over David Johnson
gOOD Times at the Ville Thats what we are talking about!!
Super Pro /Pro No E Combo
Open Wheel Record set by John C Jackson 4.3677 E.T.
Winner: John C Jackson, Star City 4.36 .057 4.37@156mph
Jr. Dragsters Sponsored by Ropers Machine Shop!!! Kruck Racing!!
Scotty Kruck, Benton
Thanks MEL & Amie COLLIER FOR YOUR CONTINUED SPONSORSHIP HERE AT THE VILLE!!!!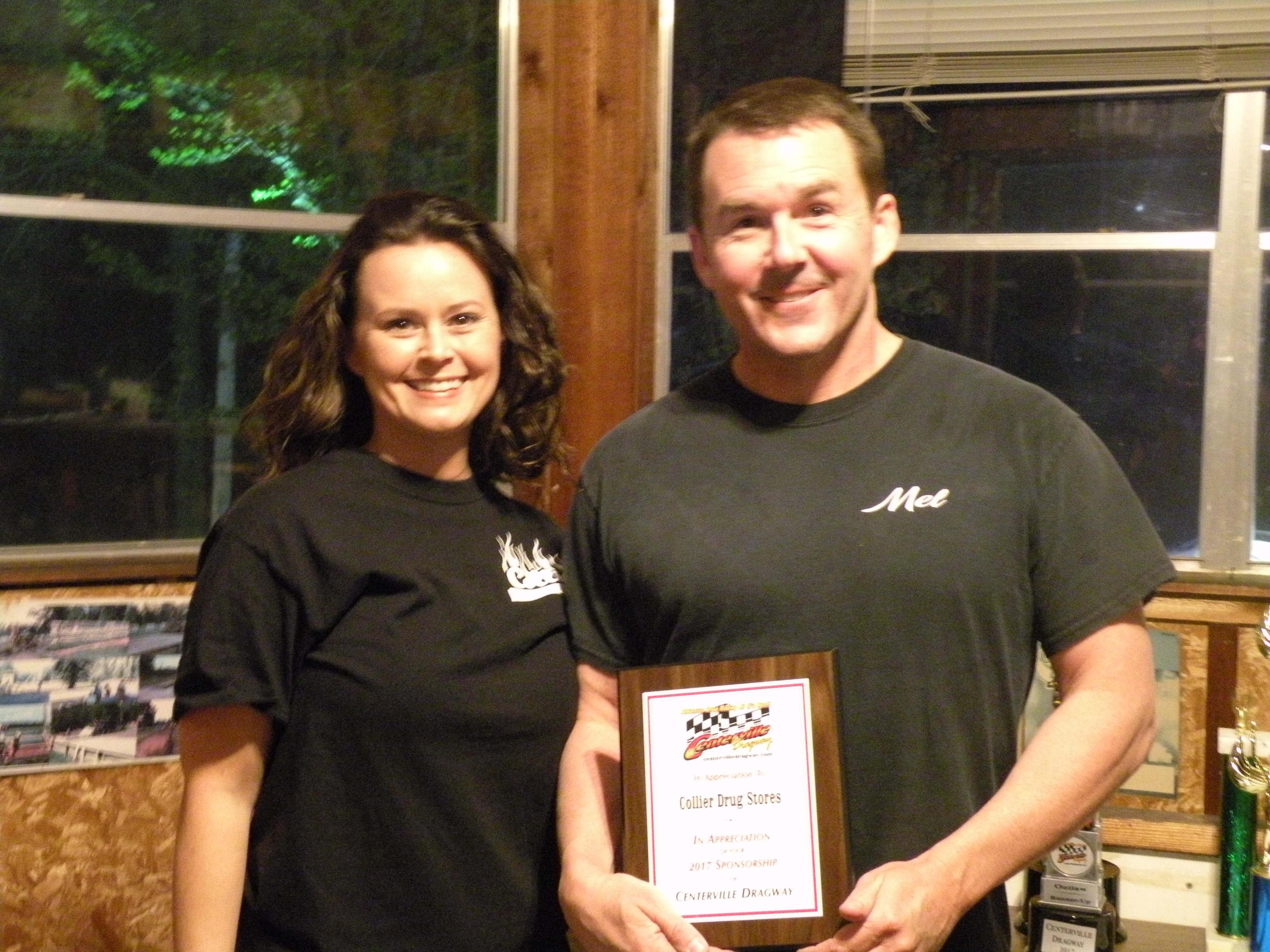 JAMES KIDDY WAS THE MACKEY MEMORIAL WINNER!!
OUTSTANDING STREET LEGAL CAR
t annual Vi
OUTLAW SHOOTOUT!!
We appreciate Kathy & Larrys Support here @ the Ville
5.01 Larry Boardman, HammerTime .071 4.49@156mph
1.
2. STEVE HAYNES, MAUMELLE RAN 14.40 ON 14.400 .500 LIGHT
So come on up and see if you can be a part of the elite racers at Centerville!!
WE ARE LOCATED 11 MILES SOUTH OF RUSSELLVILLE, ARK. ON HWY 7, THEN 1 MILE ON 154 FOR MORE INFORMATION CALL TRACK 479-576-4001 OR EMAIL AT cvdrag@ymail.com